Bring Your Own Channel
Have your own forum or live chat that you'd like to see connected to Brand Embassy? It's now possible to easily connect those unique channels – all you need is API access. Ask your account manager for more information.

Confirmation for Social Actions
Accidental Retweets are now a thing of the past. To retweet, like, or share an additional box will pop up, confirming that you wish to take this action.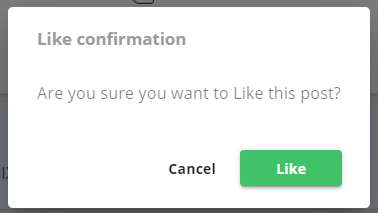 Advanced Auto-tagging capabilities
Auto-tagging is moving into Workflow Automation. This means that the possibilities of what to tag and when to tag have expanded considerably.
This is accomplished by using the new trigger Before Message Created. The condition Content Contains is where you can add your keywords. This now allows you to specify where you look for the keyword (in the body, subject, a plugin), as well as the ability to apply regex (Regular Expression) rules.
Check out the support article with How To steps here.