Every once in a while an error can appear in Brand Embassy. If you are unsure what could it mean you can always ask our Support Heroes :)
A great way to speed up the investigation is sending the print screen of the error message together with Console print screen.
There are a couple of ways to get to the console:
On Windows or Linux you can use the following keyboard shortcuts: F12 or Ctrl+Shift+J. You can also access the console by right-clicking with your mouse and choosing the Inspect on the bottom.
On MAC the mouse will work the same but the shortcut is Cmd+Opt+J :)
Once you have opened the console part of the browser, you want to click the console Tab as visible below: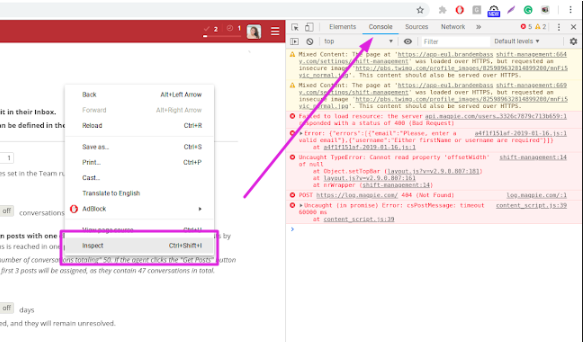 You want to take a print screen of any red error message in the console. The yellow messages are notifications.
Here are some more examples of console print screens: