To connect your support email with Brand Embassy so you can use the email ticketing system, you need to log into the platform and complete this form. I know, I don't speak IT either, but we can do it together.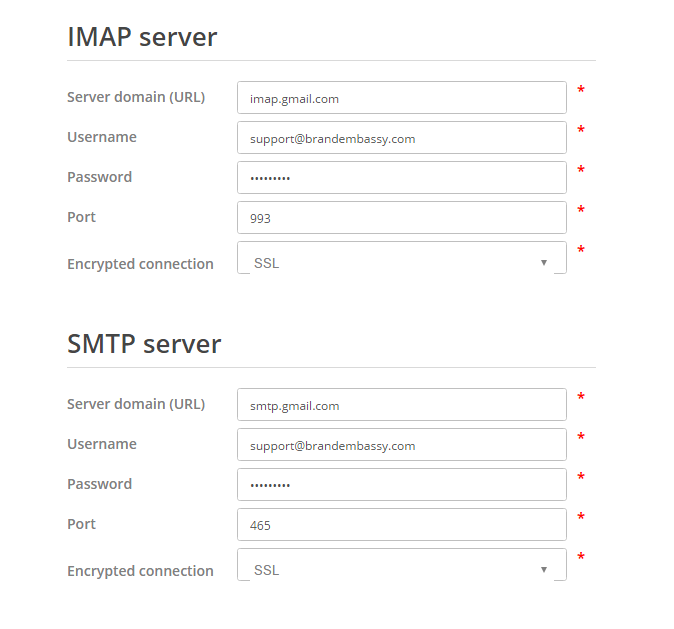 IMAP is a protocol for receiving emails and SMTP is for sending emails.
IMAP
The server domain corresponds to the domain email account - eg. for the email support@brandembassy.com, the server is "imap.gmail.com," because Gmail is our server. If you don't know, ask your IT team, they'll know.

Next, username and password (easy!) - the email and password for the email to connect.

Port - unless specified, we can use standard ports - 143 for insecure connections (non-encrypted connection) and 993 for secure (SSL / TLS)

Encrypted connection - if you put 143 in Port, then you should select 'None'. If you put 993, select either SSL or TLS. Unless your server has special settings either should be fine.
SMTP
The server domain is the same as IMAP, in most cases, but uses "smtp.gmail.com" instead.

Username and password - same as above

Port - not the same as above - unless indicated otherwise, use 465 for a secure connection or 25 for a non-secure connection.

Encrypted connection - usually same as IMAP
That's it, we'll take it from here! If you aren't sure, we can always set it up and change it later if it doesn't work, or ask your IT team for the specifics. Is your inbox ready for all the messages? Check your routing rules or inbox preferences.