Email is not dead. It's more alive than ever! With Brand Embassy, email ticketing is fully integrated with other digital service channels making it a seamless part of the customer service journey. Channel hoppers get the smooth customer experience they expect and agents don't have to worry about missing anything.
Never lose an email with Brand Embassy
Over 74% of customers seek help on 3 or more channels. Prepare your customer service strategy for these channel hoppers and use information from other sources to improve your email ticketing workflow.
| Email Feature | How it Works |
| --- | --- |
| Integrated Platform | Agents work from one platform to service any digital channel [email, live chat, Facebook, Twitter, Instagram, Google+, LinkedIn, YouTube] . No more switching between tabs or searching for CRM data in another platform. Start a conversation on Facebook, end it on email. |
| Intelligent Workflow | Automatically assign email tickets to the most relevant customer service agent with smart business rules. Tickets can be prioritized and routed based on keywords, customer/agent relationship, language and a variety of other parameters. |
| CRM | Our CRM system links customer profiles across multiple social networks and email to form a single record. Sentiment analysis, cross channel conversation history, internal notes and customer influence let agents know exactly who they're talking to in real-time. |
| Approval Process | Define roles and ensure a consistent brand voice with various levels of approval. Agents can escalate complicated issues to various levels making it ideal for onboarding team members and implementing new processes and procedures. |
| Knowledge Base | Use canned responses for typo-free, fast, easily personalized customer service. Predefined answers and last response are available with one click and predictive templated responses are suggested based on context of email. |
| Insights Reports | Track the conversation with automated tagging and get actionable insights to inform business decisions. Analyze topic relationships and sentiment to understand how your brand is perceived and discussed in email communications. All of this data in one, simple dashboard. |
| Workflow Reports | Understand overall and individual contribution to customer satisfaction with Workflow Reports. Measure first response time, customer journey and SLA to identify top performers and areas of improvement. |
Does Brand Embassy's email ticketing support all sources?
Yes. The source of an email ticket might be from a traditional email, contact form, help request from your mobile app or microsite. With Brand Embassy, source doesn't matter, every single request is seamlessly routed within the platform and attributed to the correct source. Agents work faster and customers are able to choose their prefered channel.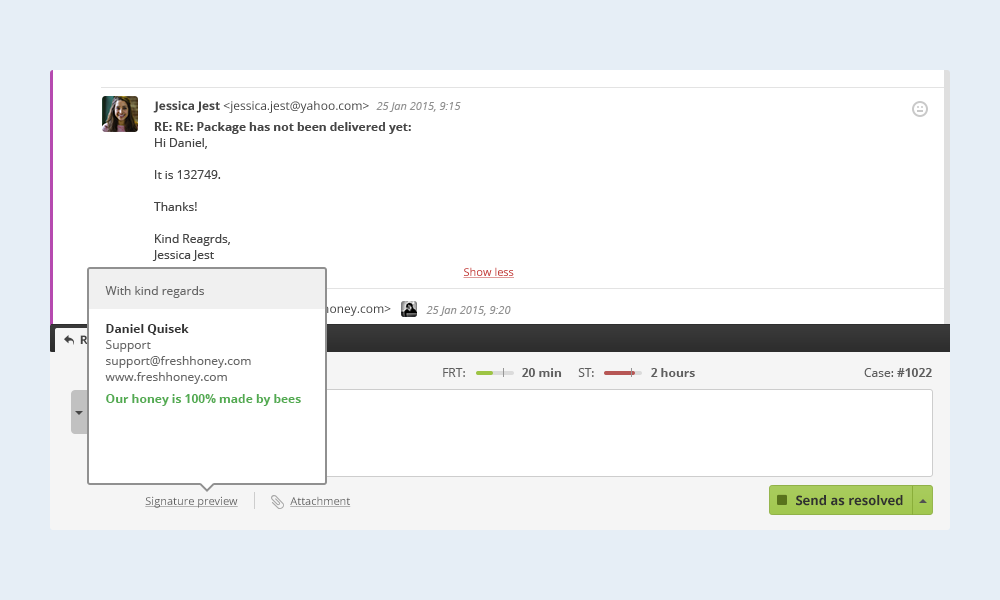 | Ticketing Source | Benefit for You |
| --- | --- |
| Support email | Whether a customer emails support@, help@ or social@ an email ticket is created and assigned to the most relevant person. One fully integrated inbox to handle all email requests makes navigation easy for agents and fast for customers. |
| Contact Form | No need to treat contact form submissions any differently than email requests. Nothing gets lost and everything is recorded. |
| Mobile Apps | Keep customers in their preferred communication channel. Don't force them out of a mobile application after working so hard to get them there. This makes for a seamless mobile experience and happy marketers. |
| Microsite | Bespoke marketing campaigns become part of the customer service offering. Deliver a specific marketing message to customers via a microsite, but don't neglect to provide help when they need it. |
| Facebook Tabs | Provide support for customized tabs on Facebook. Whether you use Facebook tabs to manage a self-service community, seasonal marketing campaign or recruitment board, all these requests are converted into an email ticket and routed via Brand Embassy. |