The Channels settings allow you to connect your digital channels to Brand Embassy and manage their settings. You can find the Channels settings in the Settings section.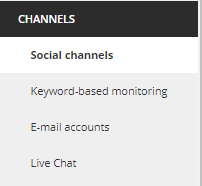 The Channels settings are divided into Digital channels settings where you can connect new social accounts and manage already connected social channels.
These are the channels we support:
Facebook
Twitter
Instagram
YouTube
Google+
Vkontakte
LinkedIn (listening only)
WhatsApp
Apple Business Chat
Viber
Telegram
Line
RSS
SMS
Don't see any of them in your settings? Have a channel you want to connect to BE but it is not on the list? Get in touch with your Account Manager ;)
Keyword-based monitoring setting shows a list of defined keywords queries Brand Embassy monitors on blogs and forums for you. Mentions of these keywords fall into the Inbox and you can react to them on their respective platforms.
E-mail accounts settings show e-mail accounts connected with Brand Embassy. E-mails sent to your support e-mail address appear in the Inbox and agents can work with them as with other social channel posts.
In the Live chat settings, you can change everything live chat related, from the set up for agents to the colour of your chat window or translations.
Note: Only admin users have access and ability to change the Channels settings.
To find out more about each section, continue to the next articles.