Analytics are deeply integrated into the Brand Embassy platform with Insights Reports. Get a snapshot of how your brand is perceived and discussed on forums, blogs and social media in relation to competitors and specific topics. Understand what matters most to your customers with topic relationships analysis and measure customer satisfaction with sentiment analysis.
Learn, understand, and improve your customer relationships
| Feature | With Brand Embassy |
| --- | --- |
| Conversation Topics | View customer conversations divided by topics and type of websites they originate from. Use this data to identify influential sources and prioritize communication outreach. |
| Customer Sentiment | Chart the evolving sentiment to highlight changes in consumer opinion and uncover reasons for the shift. |
| Conversation Volume | Find the source of trending messages so you can directly engage with them while these communities are still forming. |
Imagine how it will help you
Let's put Insights Reports into perspective. Imagine you are a successful telecommunications company ...
Topic Relationships
Vodafone's customers talk about Battery Stamina in relation to "low stamina", "low quality" and "frequent faults". The increase or decrease in negative battery stamina conversations can help inform product and marketing to best develop their strategy moving forward.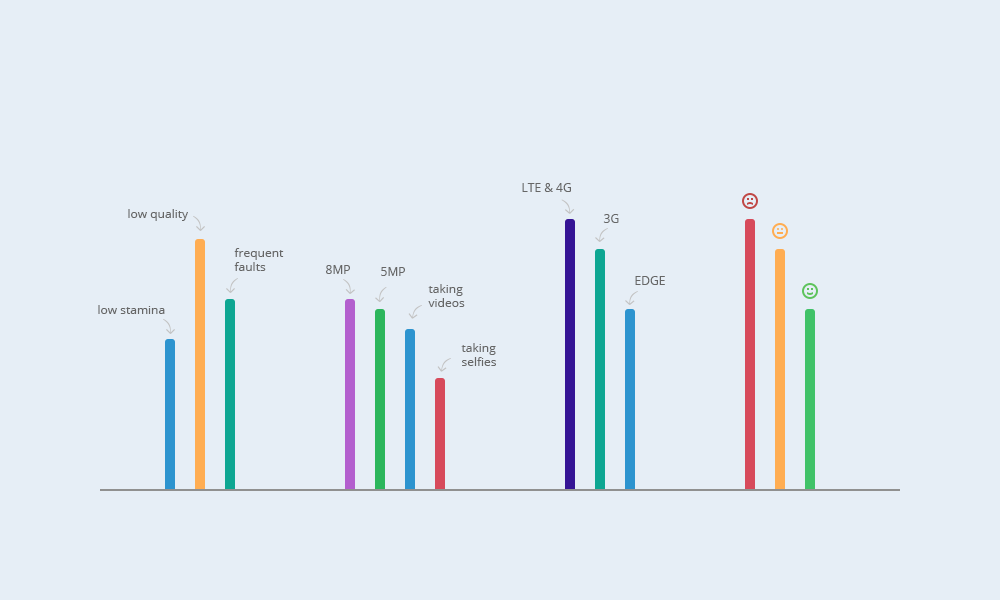 Volume Relationship Analysis
When customers talk about Vodafone in relation to competitors they tend to compare them more with T-Mobile and less with Lebara. If Lebara Mobile and Vodafone are increasingly mentioned side by side this can inform Vodafone that Lebara is becoming a more serious competitor.
Sentiment Analysis
Vodafone can benchmark sentiment against competitors to measure customer satisfaction over time. Add competitor names as keywords to track and manually mark sentiment. This can help identify overall trends or inform the success or failure of a marketing initiative.
Topics by Source
Understand where people are talking about what, all in relation to your brand. People who complain about Vodafone's Battery Stamina mostly complain on discussion forums, while Vodafone's Facebook Page is the number one source for talking about Camera and Twitter is dominated by discussing iPhone.