Statuses show the life cycle of a request in Brand Embassy. They appear as a colored label in the header of the post, case or comment. Different customer inquiries can have different statuses.
Post - is a thread of communication, a brand's status and all its comments, or a Whatsapp chat with a customer.
Case - is an individual request from the customer. Each case has a unique ID which is assigned upon sync of the comment to the platform.
Example of a post with cases: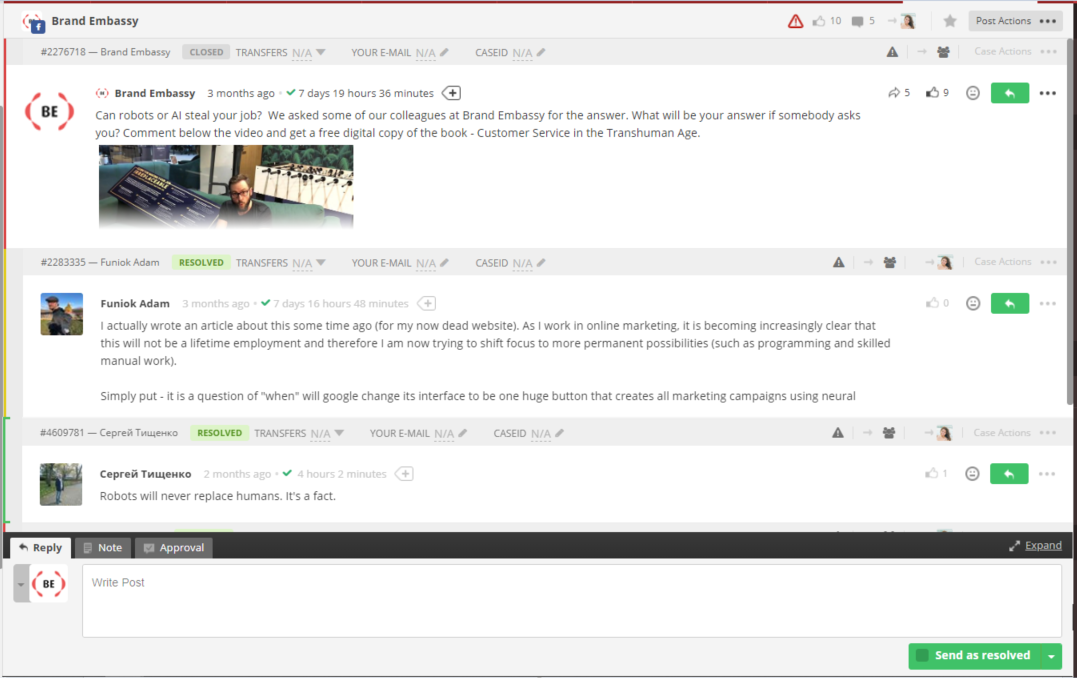 When a post or case enters the system it's automatically marked:
New - new request without any reply from the agent.

Open - an inquiry already assigned to an agent, but awaiting resolution. Posts are also marked like this when it is a continuation of a previous conversation previously marked 'resolved'
Once a post or case is in the system, you use progress statuses to keep track of what needs to be done next:
Pending - the agent has replied but is waiting for more information from the customer

Escalated - the agent has replied but is waiting for more information from another department (i.e., finance, legal, etc)

Resolved - an answer has been provided and there is no more to be done.

Closed - once the case is closed it cannot be reopened. A new message will trigger a new case.

Trashed - case considered irrelevant, spam or abuse which doesn't merit a response. Note: These messages are not removed from the native platform, and are not included in reporting (except in the KPI report where you can see how many posts were trashed by the agents).
Individual messages/comment have the following statuses:
New - when it arrives in the system

Checked - a message that has been seen by the agent

click New if it needs no response

will be done automatically when you respond
NOTE: A post can have multiple statuses. Example: if you see New and Open together, it could mean the case is open and contains new comments.