This article covers the workflow of approval process, if you want to set it up, please click here.
There are two types of agent:
A. Agents with permission to send replies
They see the Reply box as the first option and they can switch to Note box or Approval box.

B. Agents without permission to send replies
They see the Note box as the first option and they can switch to Approval box.


Both types of the agent can create drafts as follows:
When creating a draft, the agent sees a preview of the answer in the reply box.



They can add a note to the draft by checking the note box. Note box will open below the Send for approval.


They need to select an approval queue in the Approve by box.

The draft shows up in the conversation with Approval design.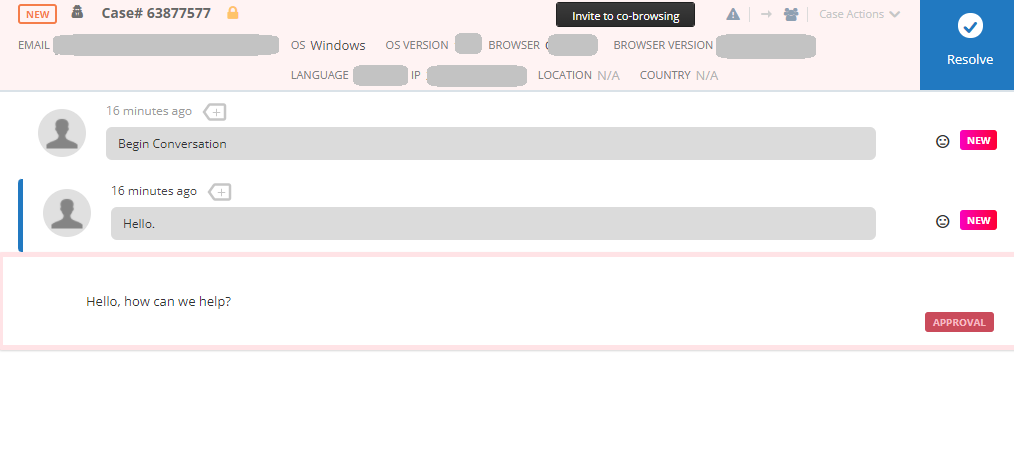 Approving Draft
After sending the draft for approval, the draft is added to the approval queue.


Once assigned to the agent (supervisor) in the approval queue the case opens in a new tab the same way as other cases.
After clicking on the draft message, the Approval box activates and shows the draft text.
The approver can Add a note, Reassign the approval to someone else, Trash the approval, Refuse the draft or Approve and reply.

Approve and reply - send the reply to customer and remove the draft
The note from approver is visible under the approved message


Refusing the approval will mark the message as disapproved

The approver can reassign the disapproved draft back to the agent queue

You can remove the draft by hitting the trash button.